Google Analytics is a fantastic (and free) source of valuable information regarding your website's traffic and users. It's also very important to have if you're running an SEO campaign and/or are looking to track your website's performance in search engines.
In the 3-step process that I've outlined below, you can view your website's most popular landing pages from organic traffic.
(Don't have Google Analytics? Get it here.)
Step 1: View All of Your Pages with Visits
The first step is to view all of the pages on your website that receive visitors. In order to do this, go to Behavior > Site Content > All Pages as shown below. This option will eventually show you all of the traffic stemmed from organic visits, not just the landing page.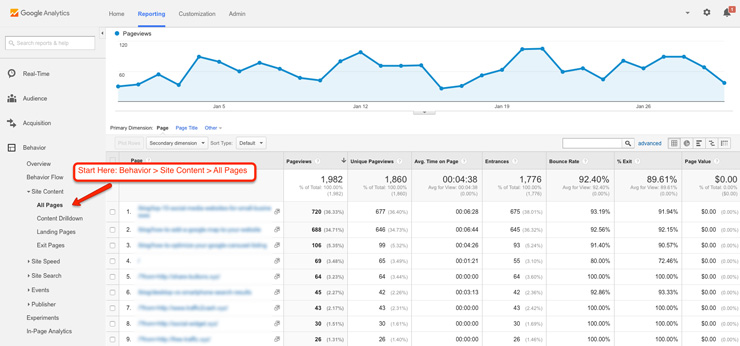 If you'd like be more specific and only view the visitor's first page, also known as a landing page, go to Behavior > Site Content > Landing Pages instead.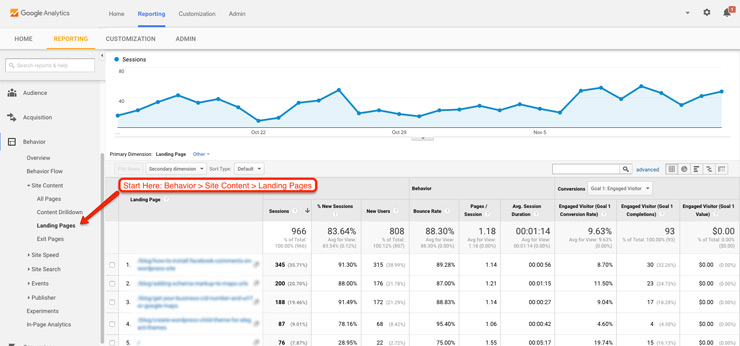 Note: The following steps are applicable to both options.
Step 2: Filter Pages by Traffic Source
Next we're going to want to organize the pages by their traffic source. This is done by selecting a Secondary dimension > Source / Medium as shown in the image below.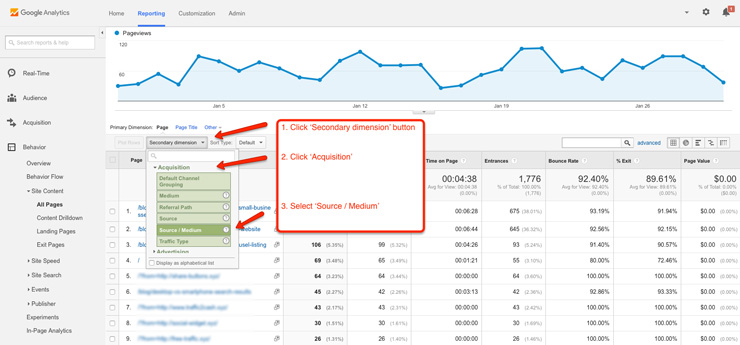 Selecting "Source / Medium" shows you the place visitors were before visiting your site and how they got there. So for example, if a visitor came from an unpaid search result in Google (a typical Google search) it would show up as google / organic. Other options for the Medium section include cpc (from search ads), referral (visit from another website), and none (direct visit).
Step 3: Filter for Organic Visits Only
Your page URLs in Google Analytics should now look they do below with a nice mixture of organic, referral and other types of visits. If so, you're now ready to move on to the final step. To view only the organic results, proceed by clicking the advanced link next to the search box, as seen below.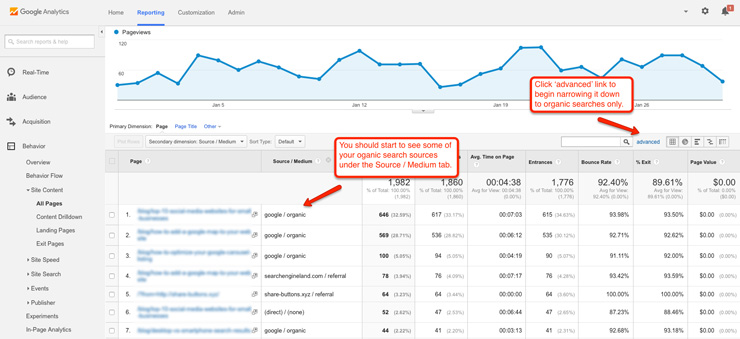 Once in the advanced section, you'll want to choose Include > Source / Medium > Containing > organic. When entering "organic" in the last field make sure to not select any of the dropdown options they provide as they will only show organic results from a particular source. By entering "organic" we are now selecting all of the sources of organic traffic. View this process below.

You should now be viewing your most visited pages where the user came from an organic search result from a search engine such Google, Bing or Yahoo. The red box in the image below shows how a different search engine would appear.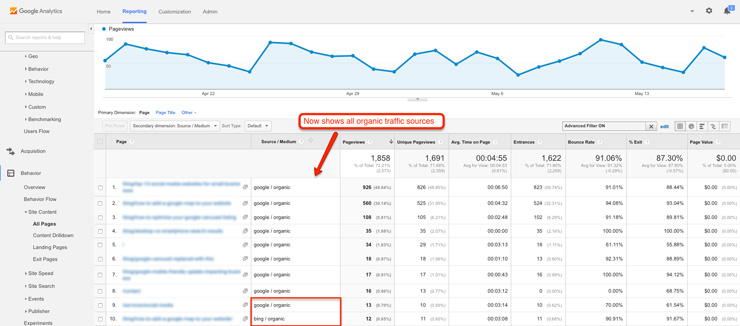 That's it, you're all done!
If you'd like to keep track of this data, make sure to click the 'Email' button at the top to schedule automated traffic reports.